A picture is worth a thousand words.
But this one is worth A MILLION! I remember pleading with the photographer to delete it, but he insisted on keeping the photo. "This day is all about capturing the moments, and this is a great one," he said. Looking back at this picture now, I have to agree.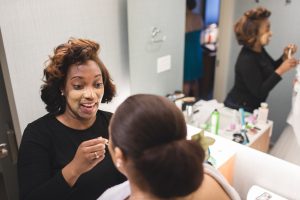 Because in your dreams, every detail matters. Why should your dream event be any different?
I was attending a friend's very intimate wedding in DC and flew in a day early to help the Bride to Be with last minute items (because there are ALWAYS last minute items!). When I got there, I realized that she needed more help than just stuffing welcome bags. I quickly become her Event Coordinator and Designer, Venue and Logistics Coordinator, Make-Up Artist, Hair and Wardrobe Stylist and personal chauffeur. I didn't mind it all – it was her big day and the beginning of the rest of her life! That's pretty huge; I was honored to simply be in attendance, let alone her go-to gal.
With about negative 15 minutes to spare before the start of her ceremony, we began applying her make up. I had HUGE bags under my eyes – I stayed up pretty late the night before finalizing programs and menus. As I opened her makeup case, I kept repeating to myself, "Don't forget to put on concealer; you desperately need concealer". I squirted a bit of her foundation on my finger tips to apply to her skin and, before I even realized it, I'd rubbed her make up all over my face! It wasn't until after I had applied most of her make up that I'd even realized I had very light brown make up on my cocoa brown skin. But it stayed on until she was completely dolled up.
When we were all done, I spent about 5 minutes applying my own makeup (which is why it's so important for every woman to have a 5 minute make up routine). We were out the door and she walked down the aisle only about 20 minutes late. Not wanting to disturb the flow of the ceremony, I stood against the wall in the back and watched her pledge her life and love to the man of her dreams.
I came to her wedding as a friend and ended up assuming various roles to serve her and her husband on their wedding day. I even made a slight fool of myself — and this picture is proof of that! But it was an absolute privilege.
As Event Planners & Designers, our FIRST priority is to serve. If your planner doesn't have a servant's heart (and you can usually tell right away), run for the door!
While I was not hired as her coordinator (she is a TRUE DIYer), I was willing to step in and serve that purpose if it meant her day was all she dreamed it would be. It is our willingness to serve that separates a good planner from a great one.
No, you and your event planner do not have to be soul mates or best friends. But you should be close; you should understand one another and, at the very least, trust each other.
Yes, choosing a planner with talent, connections and experience is important. But, in my experience both as a client and an event professional, the planner with your best interest at heart is ALWAYS the one you will be the most satisfied with, no matter how many vendors they know or how long they've been in the industry. They will work for every penny you pay them, and as if you were their one, and only, client.
Choose a planner that will get a little dirty and even make a fool of themselves if it means your day will go off without a hitch; that comes prepared with a Plan A, B, C, and D; who will roll up their sleeves and get to work before you ever even ask.
The same service and reverence I provided to my friend on her special day, SoBe provides to every one of our clients! Just ask around — SoBe is, hands down, where your dreams come true.
Have you hired an event planner or other professional who did not live up to expectations or didn't have a true desire to serve you as a client? Or have you had a professional go above and beyond – and even to the heavens and back – to help you achieve your goals? If so, we'd love to hear about it! Leave a comment below.